In every sport, there are always one or two teams that either come out of nowhere and make an amazing run or improve their roster in such a way where they will become a playoff or title contender for years to come. This past off-season in the NBA, there were multiple teams that put themselves in a situation to compete in the playoffs, compete for the title, and compete for multiple years.
Top 5 Most Improved Teams
5. Cleveland Cavaliers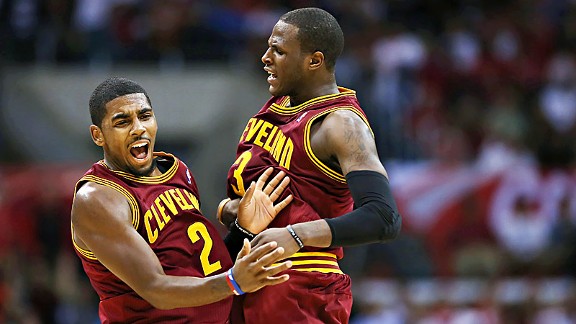 After losing LeBron James, the Cavs went from being the best regular-season (two back-to-back 60-win seasons in '09 & '10) to one of the worst in the 2010-2011 season with a 19-63 record, finishing 13th in the Eastern Conference. The Cavs continued to struggle even after drafting Kyrie Irving with the 1st Overall Pick in 2011 and Dion Waiters with the 4th Overall Pick in 2012. However, this off-season, the Cleveland Cavaliers and owner Dan Gilbert made sure they make some noise and put Cleveland on the map once again. They signed Andrew Bynum to a 2-year deal worth a little over $24 million. They also brought in point-guard Jarrett Jack, forward Earl Clark, and they drafted center Tyler Zeller and forward Anthony Bennett [with the 1st Overall Pick in this year's draft]. The Cavs may not be a great team in the Eastern Conference or a threat to the Heat, Pacers, Bulls, Nets, and Knicks, but if Andrew Bynum and Kyrie Irving can stay healthy, they can absolutely be a playoff team and possible make some noise in the 1st Round.
Last Year's Record: 24-58
Projected 2013-2014 Record: 40-42 (if Bynum stays healthy)
4. Detroit Pistons
This summer, the Detroit Pistons signed free agent forward Josh Smith and traded for Bucks' guard Brandon Jennings. The Pistons finished 29-53 last season and were looking to bring in young talent surrounding their young nucleus in Andre Drummond and Greg Monroe. Andre Drummond and Greg Monroe both have the potential to be great low-post players. They both have great touch around the basket, are great rebounders, and good rim protectors. Now, you put Josh Smith in the same front-court as Drummond and Monroe, and the Pistons are definitely looking to make the playoffs. Even though Jennings is not a great point-guard, he is an upgrade from Brandon Knight who started 75 games. Knight was a good young player with a lot of potential, but the Pistons need a point-guard who is ready right now. Brandon Jennings is a good young talent with arguably the same potential as Knight, but he has already established himself as a starting point-guard in this league who can torch you on the offensive end on any given night (dropped 55points vs. the Warriors).  Jennings' role on this team is probably going to be the "go-to-scorer" and facilitator by getting Smith, Monroe, Drummond and the young guys on this team involved. He, without a doubt, has a better team with the Pistons than he did in Milwaukee. Therefore, he probably won't focus on scoring the ball much this year, but rather being the point-guard that this team needs in order for them to be a good playoff team and compete in the Eastern Conference for years to come.
Last Year's Record: 29-53
Projected 2013-2014 Record: 40-42
3. New Orleans Pelicans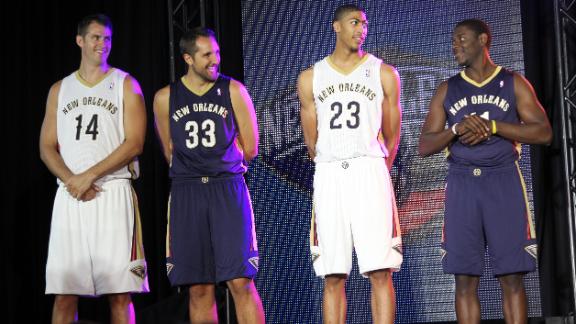 The Pelicans have been really busy this off-season and it all started last year when they decided to change their name from Hornets to Pelicans. Last year, the Hornets (before changing their name to Pelicans) selected Anthony Davis with the 1st Overall Pick in the 2012 Draft. They also drafted Duke guard Austin Rivers. Davis had a good rookie season, but he did not produce what the Pelicans were hoping and that was for him to be the next franchise big-man and elite defender/shot-blocker. Rivers' rookie season was full of inconsistency and injuries. The Pelicans this off-season traded their 6th Overall Pick, Nerlens Noel, to Philadelphia for All-Star guard Jrue Holiday. Jrue Holiday is a young player who can run the point, score, and defend point-guards. The Pelicans also traded for Kings' guard Tyreke Evans, a reigning Rookie of the Year who just wasn't able to live up to his potential due to injuries and inconsistent shooting. New Orleans also brought back their best perimeter player in Eric Gordon and added some shooting with the addition of Anthony Morrow. The Pelicans may not be elite, but with the off-season they have had so far, they will definitely be a playoff team in a stacked Western Conference.
Last Year's Record: 27-55
Projected 2013-2014 Record: 41-41
2. Dallas Mavericks
A lot of you probably don't remember, but the Dallas Mavericks were the 2011 NBA Champions. In the hopes of getting Chris Paul or Deron Williams, and even Dwight Howard, the Mavericks' owner traded or let of all the players from that 2011 Championship team go except for Dirk Nowitzki and Shawn Marion. The Dallas Mavericks started the season well, but finished the season not the way Mavs' fans are used to, which is making the playoffs. The Dallas Mavericks missed the playoffs for the first time since 2000 (now that's success). Dirk is aging and probably can't carry a team as he did when he was in his prime, so Mark Cuban does need to surround him with good talent and possibly someone who will carry the torch after Dirk takes a backseat. The Mavericks once again couldn't land a big-name player (Dwight Howard, Deron WIlliams, or Chris Paul) for the second year in a row, but they were able to add veterans and good pieces who will come in and contribute right away. The Mavs added point-guards Jose Calderon and Devin Harris. In the Western Conference, you need a solid point-guard to make a push in the playoffs; players like Calderon and Harris have been starters before and have been on playoff teams. The Mavericks also added guard Monta Ellis who will take some of the scoring load off Dirk's shoulder and provide that "go-to-guy" option when Dirk is out of the game or not playing. Dallas also added size and rim protection with the signings of Samuel Dalembert and DeJuan Blair. They acquired some perimeter shooting to create space for Dirk and Monta by bringing in sharp-shooter Wayne Ellington. The Mavericks missed the playoffs last year, but they will be back in the playoffs to continue their story of success led by future Hall of Famer, Dirk Nowitzki.
Last Year's Record: 41-41
Projected 2013-2014 Record: 48-34
1. Houston Rockets
The Rockets (in my opinion) will be the Most Improved Team in the league, the reason why: Dwight Howard. Dwight Howard is an elite center. When he is healthy, he is by many considered the best big-man in the league. Dwight Howard's dominance is felt on the offensive end and can change a team's identity on the defensive end. He has a god-given body with the ability to out run your big-man in the open-court and the athleticism to jump over your entire team for an easy dunk or put-back. Howard, who came off a back and shoulder injury and struggled under the bright lights of LA, had a tough time playing alongside Kobe Bryant or what is known to be "sharing the spot light." Even with the injuries, bad coaching staff, and chemistry problem, Howard still managed to average 17 PPG and 12 RPG on 57% shooting, to also go along with 2 BPG. Dwight Howard will now pair up with James Harden, who has already established himself as one of the Top 3 shooting-guards in the league, if not the best. James Harden and Dwight Howard will probably run a lot of pick and rolls and make it tough for the defenders to commit to one player. Howard is also surrounded by pretty good players like Chandler Parsons, Francisco Garcia, Jeremy Lin, Patrick Beverley, Omer Asik, Ronnie Brewer (who they signed this off-season), Omri Casspi, Reggie Williams, Aaron Brooks, and a veteran center in Marcus Camby. The Rockets are not only looking to improve both on the offensive end and defensive end, but also to compete for the Championship. It will be hard to stop both Harden and Howard at the same time, let alone being able to double one of them – leaving the shooters around them open. Don't try it, you will regret it.
Last Year's Record: 45-37
Projected 2013-2014: 57-25
Honorable Mentions
Brooklyn Nets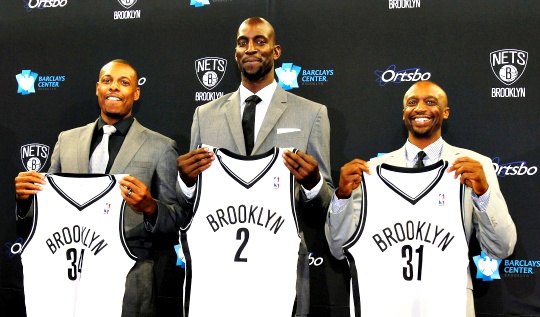 With the additions of Paul Pierce and Kevin Garnett, the Brooklyn Nets will be a threat in the East. But with a new head coach Jason Kidd, there will be a lot of questions surrounding how he will run the team. How many mins is he going to play Pierce and KG in the regular season? Will Brooklyn go for that 1-4 seed or just stay healthy, make the playoffs, then compete at a high level when it counts the most in the playoffs? Don't forget, the Brooklyn Nets won 49 games last year. There is very little room to improve when it comes down to winning "more" games.
Last Year's Record: 49-33
Projected 2013-2014 Record: 54-28
Los Angeles Clippers
The Clippers brought in a new head coach in Doc Rivers. Clippers have yet to prove they can win in the playoffs with Blake Griffin and DeAndre Jordan being their "X-Factors." With the additions of Jared Dudley, J.J. Redick, Darren Collison, bringing back Matt Barnes, Byron Mullens, and Reggie Bullock, it will open up more space for Griffin and Paul to operate in a half-court offense, but we have to see it before believing it. The Clippers are arguably the deepest team in the NBA, but they also play in the toughest conference.
Last Year's Record: 56-26
Projected 2013-2014 Record: 61-21
–